---
NIST Radio Station WWVH
---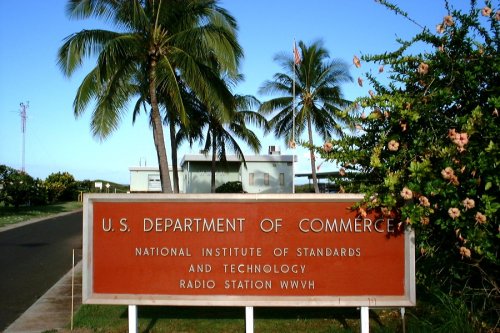 ---
NIST radio station WWVH broadcasts time and frequency information 24 hours per day, 7 days per week to listeners worldwide. The station is located on the Island of Kauai, Hawaii on a 12 hectare (30 acre) site near Kekaha at Kokole Point. The information broadcast by WWVH includes time announcements, standard time intervals, standard frequencies, UT1 time corrections, a BCD time code, geophysical alerts, marine storm warnings, and Global Positioning System (GPS) status reports.
Broadcast Frequencies
WWVH operates in the high frequency (HF) portion of the radio spectrum and radiates 10,000 W on 5, 10, and 15 MHz, and 5000 W on 2.5 MHz. Each frequency is broadcast from a separate transmitter. Although each frequency carries the same information, multiple frequencies are used because the quality of HF reception depends on many factors such as location, time of year, time of day, the frequency being used, and atmospheric and ionospheric propagation conditions. The variety of frequencies makes it likely that at least one frequency will be usable at all times.
Antennas
From 2000 to 2007, NIST has installed new antennas encased in fiberglass rather than traditional steel supports, to resist corrosion from the salty ocean air. The fiberglass design will reduce maintenance and repair costs. The new design also enables the flexible, lightweight antennas to be easily lowered to the ground for maintenance, reducing safety hazards to staff. The improved antennas should reduce signal downtime for WWVH users. The 5 MHz antenna system consists of half-wave phased array vertical antennas. The 2.5, 10 and 15 MHz antennas are base-fed vertical monopoles that radiate omnidirectional patterns. Each frequency also has a vertical monopole standby antenna connected to the standby transmitters, in the event that the primary system fails.
WWVH Antenna Coordinates
| | | |
| --- | --- | --- |
| Frequency (MHz) | Latitude | Longitude |
| 2.5 | 21° 59' 20.9" N | 159° 45' 52.4" W |
| 5 | 21° 59' 10.8" N | 159° 45' 44.8" W |
| 10 | 21° 59' 18.2" N | 159° 45' 51.3" W |
| 15 | 21° 59' 15.3" N | 159° 45' 50.0" W |
Modulation
The signals broadcast by WWVH use double sideband amplitude modu­lation. The modulation level is 50 percent for the steady tones, 50 percent for the BCD time code, 100 percent for the second pulses and the minute and hour markers, and 75 percent for the voice announcements.
Other Information about WWV and WWVH ...